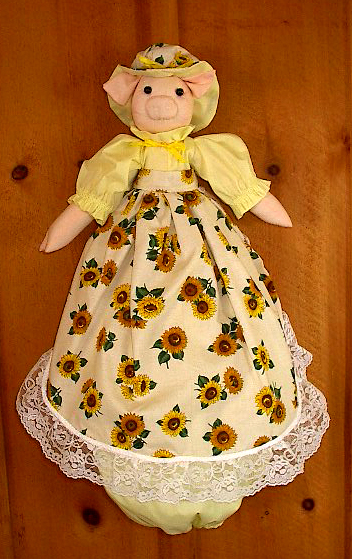 PIG BAG HOLDER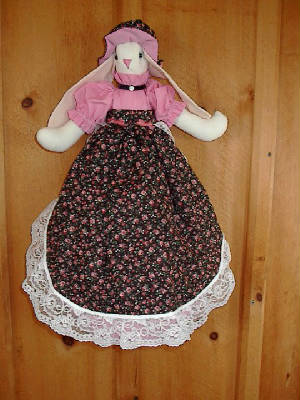 BUNNY BAG HOLDER
BAG HOLDERS designs are available in the fabrics as pictured here as well as the same colors as the KITCHEN WITCHES.
All BAG HOLDERS are about 24 to 28 inches long and can hold a multitude of bags, or what ever you want to hide. They make wonderful diaper holders and place to store your cleaning rags or whatever.
BAG HOLDERS are $ 28.95 PLUS SHIPPING AND TAX OF $12 for total amount $40.95.


Payment is made by MONEY ORDER OR CHECK and will be shipped after payment has been received. If you pay by check, shipment will be after the check clears.

If any product is a gift, we can mail directly to any address that is requested. You will receive the copy of your order and the tracking number so we both can keep track of your order.

Shipping is by PRIORITY MAIL.
Orders accepted for USA addresses only.
Please see ORDER PAGE.
MENU is located on the upper left hand corner on this page................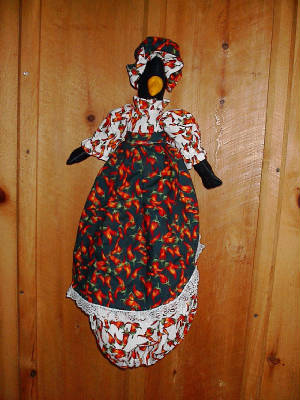 CROW BAG HOLDER
PLEASE NOTE THE ARE DIFFERENT STYLES OF BAG HOLDERS AVAILABLE. EACH BAG HOLDER WEARS A DRESS, A FLOPPY HAT THAT MATCHES HER DRESS AND APRON. YOU PICK YOUR COLORS AND I WILL WORK MY MAGIC....KEEP IN MIND THE SKIRT OF THE DRESS IS WHERE YOU STORE THE BAGS.
PLEASE FEEL FREE TO E-MAIL ME WITH ANY QUESTIONS YOU MAY HAVE.
COW BAG HOLDER
YOUR BAG CREATION LIKE THE KITCHEN WITCHES ARE ONE OF A KIND AND SPECIAL WITH YOUR INPUT. COLORS CAN BE CHANGED TO GO WITH ANY DECOR AT NO EXTRA CHARGE. ALL OUTFITS ON THE MODELS CAN BE SWITCHED AROUND AT YOUR REQUEST. SO, IF YOU WANT THE PIG OUTFIT ON THE COW, OR ANY OTHER SPECIAL COLORS, PLEASE FEEL FREE TO REQUEST THIS.
" You just never know where
I am going to show up do you?
Keep scrolling and clicking "