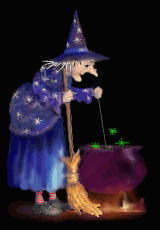 CUSTOM DESIGNED KITCHEN WITCHES & CRAFTS
Please note the menu for my other products located on the upper left hand side of this page.
LEGEND OF THE KITCHEN WITCH:

Depending where you do your research on the legend or folklore of KITCHEN WITCHES, some materials may tell you KITCHEN WITCHES ARE of German descent, while other might say they are a Norwegian custom handed down from generation to generation. The one thing we can be sure of is that the KITCHEN WITCH is from European decent.

KITCHEN WITCH folklore tells us the kitchen witch is a good witch, making the kitchen a warm, cozy, and comfortable place to be in. She is a gentle, whimsical, loving creature, performing wonderful magic that out tricks the bad witch, who is full of mischief . Therefore, the bad witch looses her power to foil and ruin your cooking. According to ledgend, cakes, breads, and other pastries will rise according to recipes. Milk will not sour or spoil. Cooking pots won't boil over. Toast, potatoes, and rice won't burn. Spices you mix will be perfect, as well as the tea and coffee you serve. Whatever the ledgend, KITCHEN WITCHES really do make you laugh, so I guess the comfort part is right.
" KEEP SCROLLING THERE'S MORE TO SEE "
EACH KITCHEN WITCH IS A HAND CRAFTED ORIGINAL DESIGN, SO NO TWO WILL LOOK ALIKE. YOU CHOOSE HER FLYING OBJECT FROM EITHER A BROOM, A MOP, OR A SPOON. EACH KITCHEN WITCH IS DESIGNED TO HANG FROM A CEILING, AND THEY GIVE AN ILLUSION THAT THEY ARE LITERALLY FLYING ABOUT. COMPLETE INSTRUCTIONS FOR HANGING AND CARE OF THE KITCHEN WITCH IS INCLUDED WITH EACH ORDER.
ALSO ATTACHED TO EACH OF THE RIDING OBJECTS THAT THE KITCHEN WITCH IS RIDING IS A TAG WITH A POEM ON IT THAT TELLS WHAT THE KITCHEN WITCH'S DUTIES ARE.
KITCHEN WITCHES ARE AVAILABLE IN TWO SIZES:
SMALL SIZE KITCHEN WITCH IS ABOUT 12 INCHES LONG INCLUDING THE RIDING OBJECT.
LARGE SIZE KITCHEN WITCH IS ABOUT 14 INCHES LONG INCLUDING THE RIDING OBJECT.
RED HAT SOCIETY KITCHEN WITCHES:
LARGE SIZE...............$25.95
SMALL SIZE...............$23.95
PLUS $12 FOR SHIPPING AND TAX.
REGULAR KITCHEN WITCHES:
LARGE SIZE...............$24.95
SMALL SIZE...............$22.95
PLUS $12 FOR SHIPPING AND TAX
The entire fee must be sent before the item will be made or mailed.....NO Exceptions.....If Payment is not received within 10 days of order placed, the order will automatically be cancelled.
Because each Kitchen Witch order are made to order, there are NO refunds.
Orders accepted for USA addresses only.
There will be a $35 fee for any personal checks returned because of INSUFFICIENT FUNDS, or CLOSED ACCUNTS. FAILURE TO CORRECT A BAD CHECK WILL RESULT IN CRIMINAL PROSECUTION.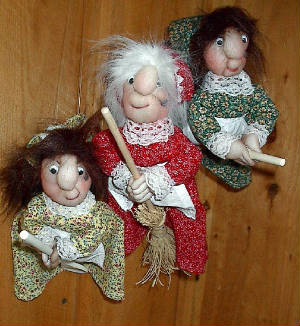 WITCHES WEARING GREEN, RED, AND YELLOW CALICO DRESSES
PLEASE NOTE THAT I MAKE THE ENTIRE PRODUCT YOU SEE IN ALL OF THE PICTURES ON THIS SITE; THAT INCLUDES THEIR BODIES, WIGS, CLOTHES THEY WEAR, INCLUDING MOST ALL OF THEIR RIDING OBJECTS. I ONLY BUY THE SPOONS BECAUSE HAND MAKING THE SPOONS IS THE ONLY THING I HAVEN'T QUITE MASTERED YET.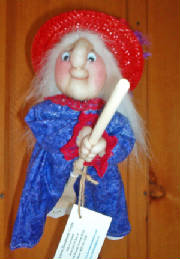 RED HAT SOCIETY KITCHEN WITCH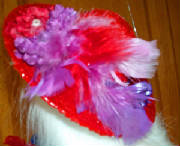 CLOSE UP OF THE RED HAT